IndieWire Maestros Tribute: How Anthony and Joe Russo Leveraged Blockbuster Filmmaking to Stay Independent In this inaugural edition of the Maestros Tribute, the Russo brothers discuss their unusual trajectory from experimental filmmakers to A-listers, and how they're supporting a new generation.
Leonardo Adrian Garcia and Eric Kohn | March 3, 2021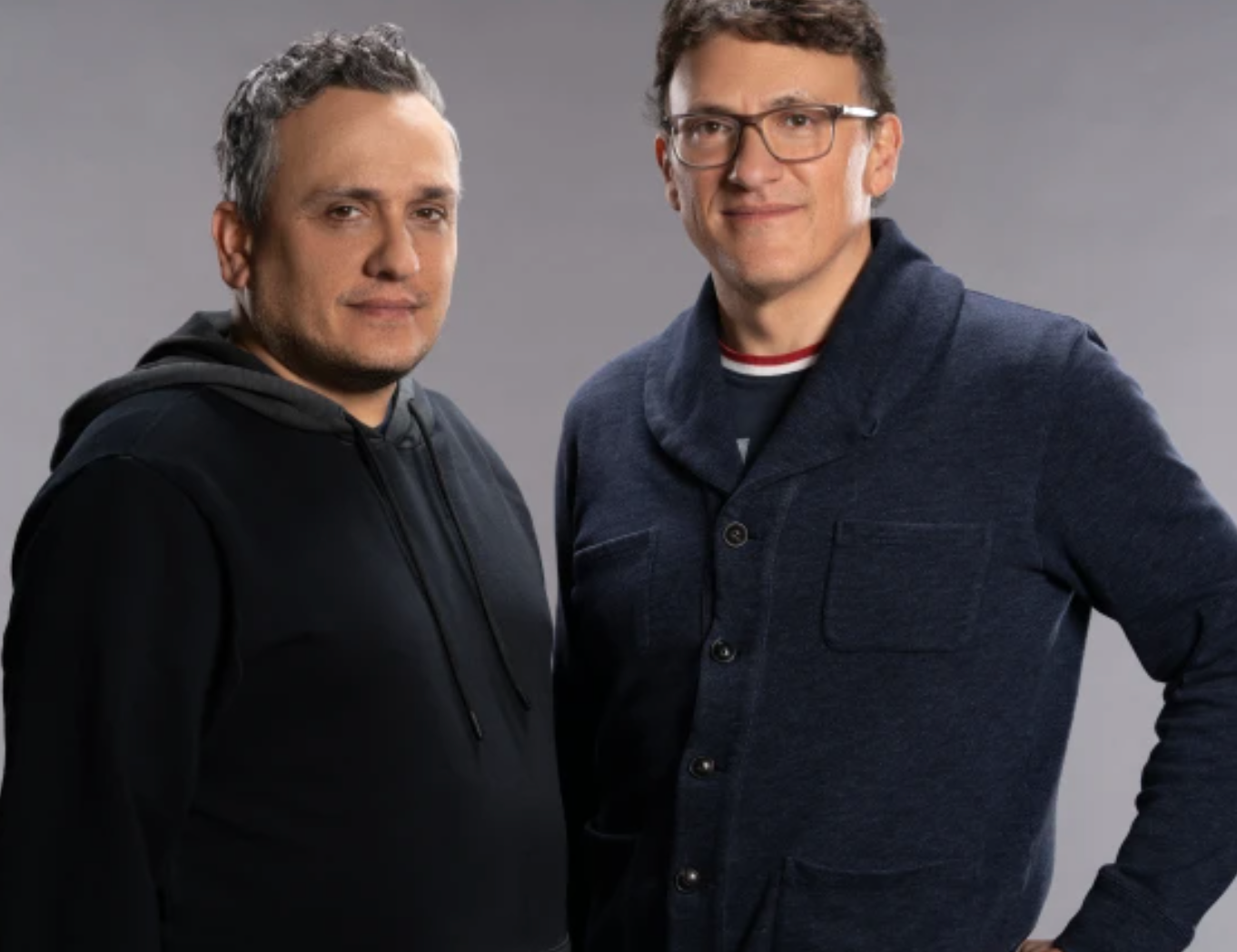 From "Welcome to Collinwood" and "You, Me and Dupree" to "Arrested Development" and "Community," the Russos' career is a study in styles and tones that bob and weave across TV and film. It created a skill set that allowed them to thrive with "Captain America: The Winter Soldier," "Captain America: Civil War," and the two-part climax to the most recent cycle of the Marvel Cinematic Universe: "Avengers: Infinity War" and "Avengers: Endgame."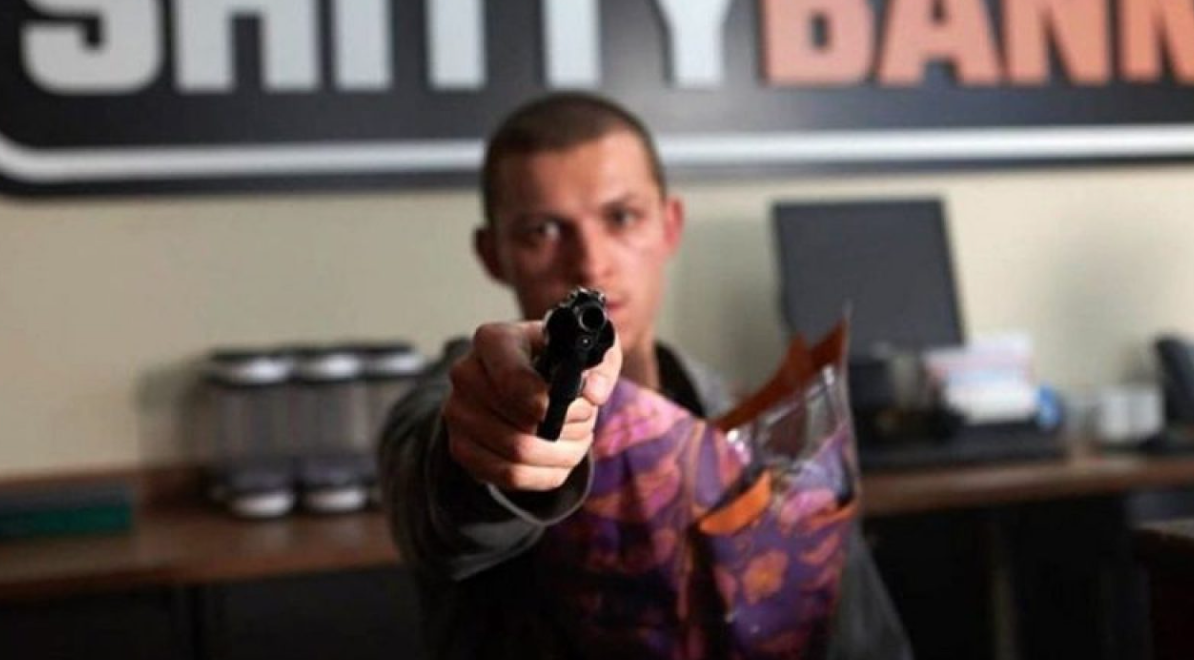 "Cherry" AppleTV+
This year, the Russos downshifted from the MCU to make "Cherry," a dark, tonally unpredictable character study that combines their experimental filmmaking instincts with the savvy that allowed the Russos to thrive in the MCU. The latest production from their AGBO studio, "Cherry" is a self-financed independent endeavor that the brothers pursued after acquiring the 2018 novel based on war veteran-turned-bank robber Nico Walker.
Written while Walker was finishing his prison sentence, the Russos bought "Cherry" through their newly-formed studio AGBO for $1 million. Their adaptation takes its cues from Walker's gonzo storytelling, with a fast-and-loose account of its semi-fictionalized protagonist (Tom Holland) as he struggles with PTSD and an opioid addiction. "Cherry" unfolds across five intentionally dissonant chapters and is by turns shocking, comedic, and grim.
With a new set of resources and industry smarts, "Cherry" also brought the Russos back to their native Cleveland as they start a new phase of their careers. With AGBO, they are investing in a range of work from new filmmakers and exploring the potential of the streaming universe. As they sat down with IndieWire for the Maestros Tribute, they were in final stages of pre-production on "The Gray Man," a new Netflix franchise starring Chris Evans and Ryan Gosling. They were keen to discuss the non-commercial ambition at the root of their careers and how they see the landscape changing for new generations. Here are some of the highlights, divided into five chapters, just like the structure of "Cherry."

I. "A Million Miles from the Film Business"

Growing up in Cleveland in the late '80s, the Russos identified as cinephiles rather than filmmakers-in-training. "We felt like we grew up a million miles from the film business," Anthony said. "We didn't grow up playing with cameras. We grew up film lovers."
It wasn't until they read Rodguez's 1995 "Rebel Without a Crew" that they were inspired to think about what they might make on the cheap — and on their own terms. "Our biggest influence at the time was the French New Wave," said Joe, who singled out Francois Truffaut's "Shoot the Piano Player" as a film that left a mark, particularly "this existential point of view that he brought to everything, but also this penchant for experimentation."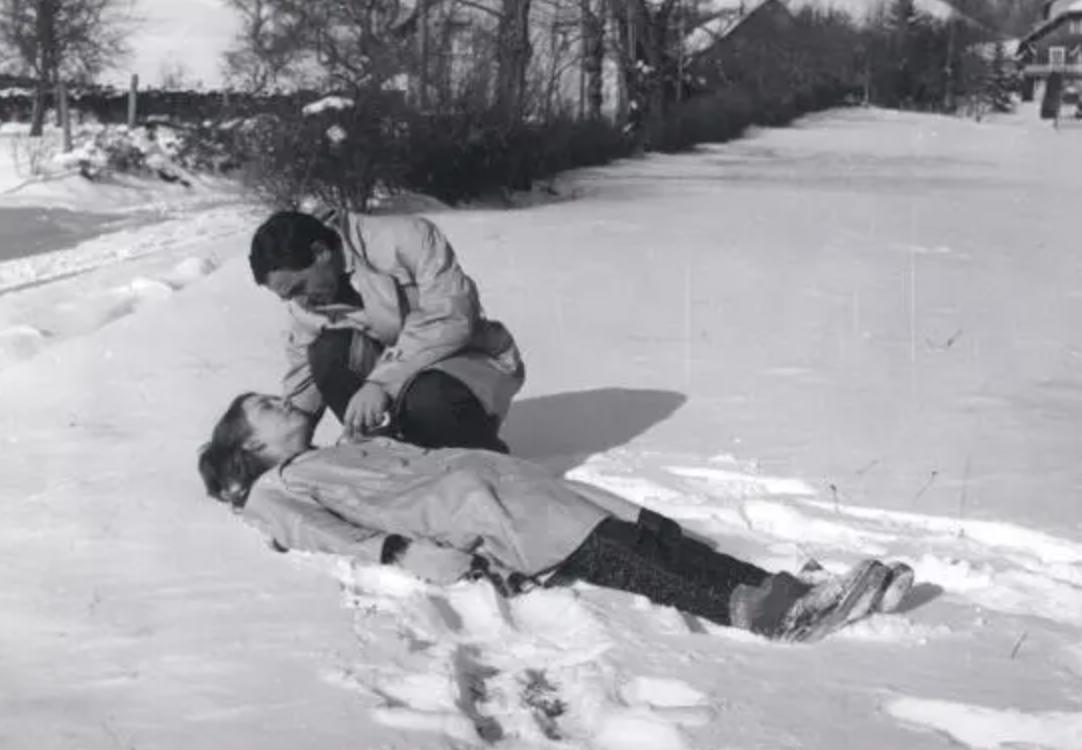 "Shoot the Piano Player"
That was evident in "Pieces," which inspired walkouts, received mixed reviews — and found in Soderbergh a passionate fan. "Only Steven Soderbergh would've liked 'Pieces,'" Joe said. "It was very punk rock in tone, it was completely absurd at moments and others it was completely overwrought."
Deeply in debt post-"Pieces," the Russos were still attending film school when Soderbergh helped them secure their first studio gig with the 2002 Warner Bros. comedy "Welcome to Collinwood" starring George Clooney. That inspired them to think about how they might bring their sensibilities to a broader audience. "He taught us about the business," Joe said. "He said, 'If you can't prove to people that you can make the money, then you're not going to get the challenging stories made. You have to leverage your brand into more difficult content.'"
II. "Creatively Devious and Financially Viable"

"Welcome to Collinwood" didn't register at the box office, but the brothers found their next break when Ron Howard and Brian Grazer reached out to them about directing the 2004 pilot of Fox's "Arrested Development." Sitcoms were a hidebound format, but this was an opportunity to change the narrative.
"Nobody wanted to spend money any longer on single-camera comedies," Joe said. "They basically turned to a couple of guys who made their first movie for peanuts to say, 'What can you do to help reinvent this form?'"
Their solution was to embrace the handheld, digital-video aesthetic that TV popularized through reality television — an approach later embraced by "30 Rock" and "The Office." They also took inspiration from the 1992 Belgian mockumentary "Man Bites Dog" as well as the Dogme '95 manifesto.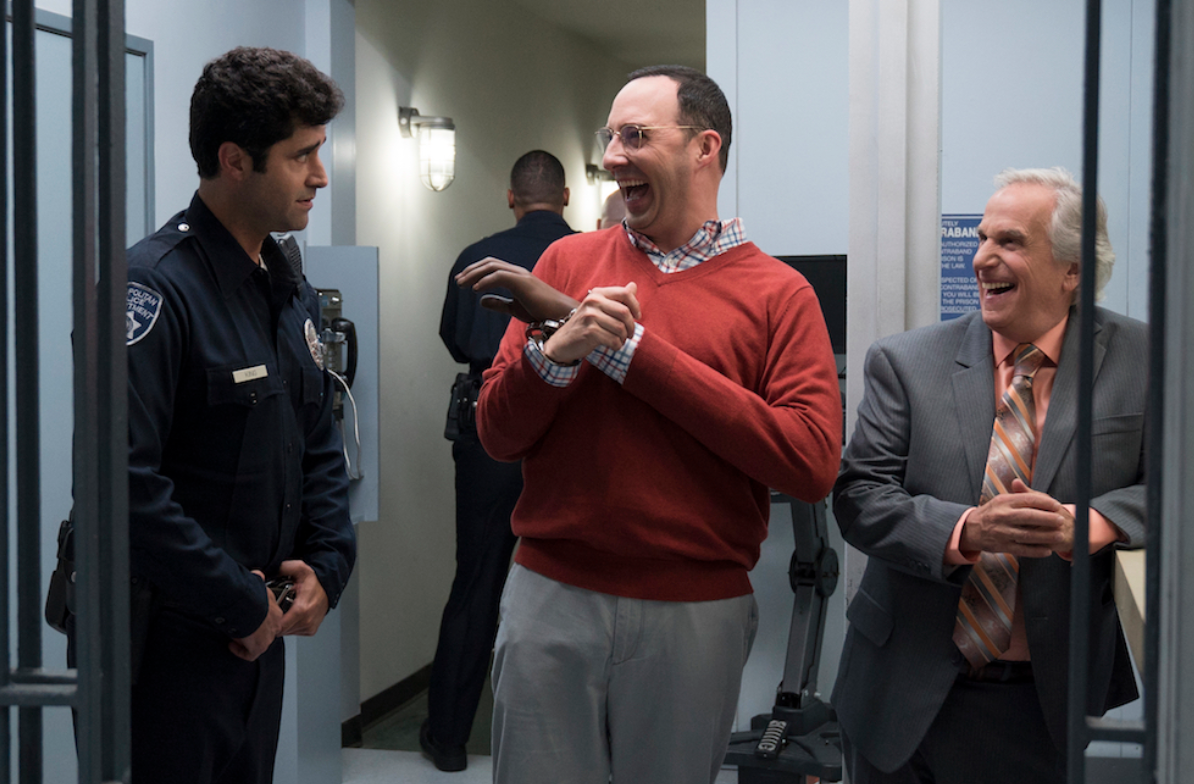 Arrested Development Season 5 Netflix
Tony Hale and Henry Winkler in "Arrested Development" Saeed Adyani/Netflix
"It's a lightly lit show that looks like crap, but it's a virtue that it looks like crap," Joe said. "We were shooting complete absurdism as if it were hardcore fact." The approach helped them cement a philosophy: "It seemed creatively devious and financially viable," he said.

"Cherry" carries that experimental approach to film language as the brothers toy with styles to capture the shifting nature of their lead character's journey. "Each chapter has its own visual principles," Joe said. "The opening passage is about magical realism. That's why we use soft lenses. There's a lot of slow-motion. … We move into absurdism when he goes to boot camp and the frame collapses around him. There's heightened performances, misdirected aggression. A level of realism slowly creeps back into the war sequences."
III. How a "Star Wars" Spoof Led to Marvel
The success of "Arrested Development" helped the Russos secure their next major TV gig as the directors of "Community," where they served as executive producers and directed much of the show. A "Star Wars" spoof at the center of the Season 2 episode "For a Few Paintballs More" came to the attention of Marvel head Kevin Feige and inspired him to hire the brothers for "Captain America: Winter Soldier."
The Russos said they weren't surprised that the show served as a backdoor audition for movie gigs. "The show is essentially about our influences," Anthony said. "'Community' is a very self-aware show that experiments with genre from week to week. That was the film geeks in us getting a sandbox to play in."
When the Russos entered the MCU, they kept tabs on how other directors — and Feige — envisioned franchise installments. "That massive experiment of serialized storytelling, going on at the highest level of feature filmmaking, was fascinating to us," Anthony said. "We are a collaboration; that's the essential experience we have as filmmakers. The idea that we had to collaborate with a narrative that was being influenced by producers like Kevin and his team, and other directors directing other corners of the universe, didn't intimidate us. It fed us on a creative level."
IV. "The Greed of the Russos"

In "Cherry," the Russos' history of large-scale storytelling shows in a prolonged battle sequence that includes an audacious blend of crane shots and drone footage. Anthony said the experience reminded him of what a cinematographer told him on a shoot years ago. "As we used to push for more and more, he used it to call it 'the greed of the Russos,'" Anthony said. "He would shake his head."
The Russos choreographed the showdown after working with military consultants. "We wanted to give you a sense of what it feels like to ride into your first battle completely unprepared," Joe said. "We'd attract the best crew in the business on [the Marvel] films and were able to bring them with us to 'Cherry,' which allowed us to do this at this budget level."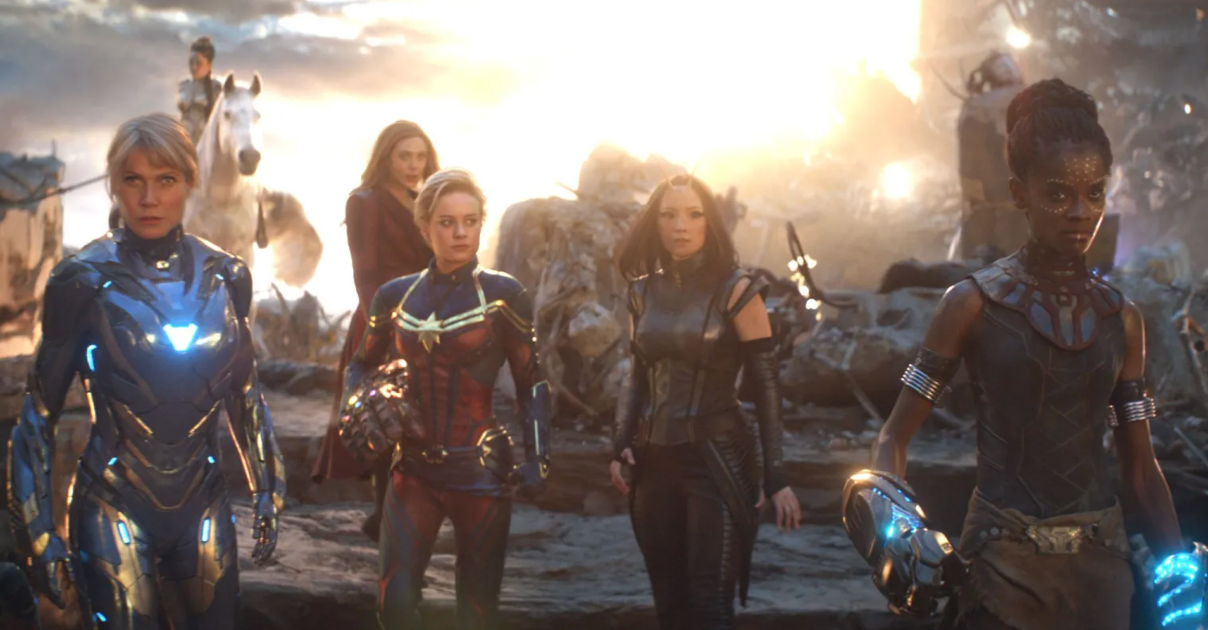 "Avengers: Endgame" Disney
These days, the brothers said they appreciate new Marvel installments from a distance. "After eight years of being consumed with storytelling on a large scale, it's relaxing to be a fan again," Joe said. "That grand experiment fed that riotous sweet tooth that we had," Anthony added. "We could do things on those films you normally can't do."
V. The Big Picture

"Cherry" has an overt sociopolitical backdrop: A veteran is neglected by the society he served, which sends his life spiraling out of control and eventually leads him to addiction. The Russos said political leanings have been in their work all along. "Our father was essentially a Socialist Democrat who was donating half of his salary to charity," Joe said.
In fact, Basil Russo, a former prominent Cleveland judge and attorney who is now retired, once ran for mayor. He even spearheaded efforts to fight banks that wanted to force the city into bankruptcy, unless it sold its public utilities — thereby allowing the banks to charge more. (In "Cherry," the brothers exacted revenge by naming one of the banks robbed by their character "Shitty Bank.") "Our father fought against this, so I think that's where our political messaging started," Joe said. "This is where we get our distaste for institutions."
Joe pointed out that "there's social commentary all over 'Arrested Development.' It's an indictment of the upper class." Deeper themes emanate in the last two "Avengers" movie as well. The gut-punch finale of 2017's "Infinity War" can be read as an encapsulation of America's divided identity in the aftermath of the 2016 election.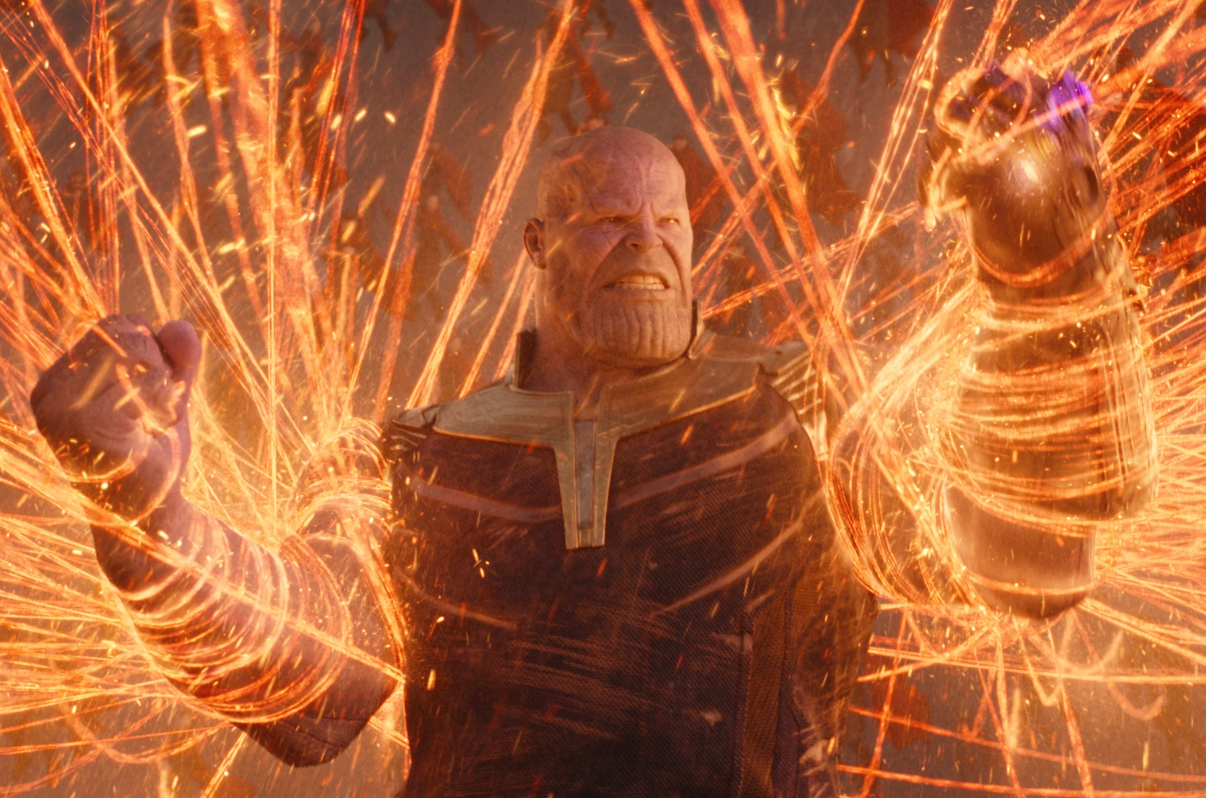 "Avengers: Infinity War" Marvel
"When people look at those films and all they see is commercialism, they're really missing the essential parables," Joe said. "The good guy doesn't always win here. Bad things can happen. But the companion piece showed you that with great sacrifice you can stand up for the right thing and change the course of history." The Russos said they posted the central theme on the wall in the writers' room: "Are we fated or, through an act of will, can you alter fate?"
The Russos will lean further into their political and social inclinations as producers. One of their first AGBO projects was the 2019 Netflix drama, "Mosul," which was based on an article in The New Yorker about a SWAT team that helped local Iraqis resist an ISIS invasion. "The heroes of this movie are Middle Eastern actors speaking Arabic," Anthony said. "Many of those actors told us they had never played non-terrorist characters in their lives. That was the prototype for filmmakers and stories we can activate as a company. An artist looks to another artist and sees different things than the business side does."

Upcoming AGBO projects include "Exit West," a story set against the backdrop of the global refugee crisis produced alongside the Obamas' Higher Ground Prods. and Netflix, as well as a dramatic feature about the Cambridge Analytica scandal.
"As the world gets more anxious, and we get more anxious about the direction it's heading in, we may be pushing those themes a little more intensely," Joe said. "We also want to be careful because we want to be inclusive and make sure our stories are always told to a wide audience. We want people to feel like they can participate."
VI. The Next Generation
Looking back on their history, the Russos said they felt compelled to support new filmmaking talent just as Soderbergh helped them years ago. "Coming off that Marvel run, we were uniquely positioned to direct financing into movies that may not have gotten it otherwise," Anthony said. "Soderbergh helped a lot of filmmakers. We have always looked at it as our responsibility to pay that back."
Last year, the Russos produced Natalie Erika James' "Relic," which premiered at Sundance 2020 as one of the more memorable horror debuts in recent years. They're currently developing a secretive new science fiction project from "Swiss Army Man" directors Daniel Scheinert and Daniel Kwan, otherwise known as The Daniels. Those movies may reflect their directors' uncompromising visions, but they're also engineered with the potential to reach multiple audiences.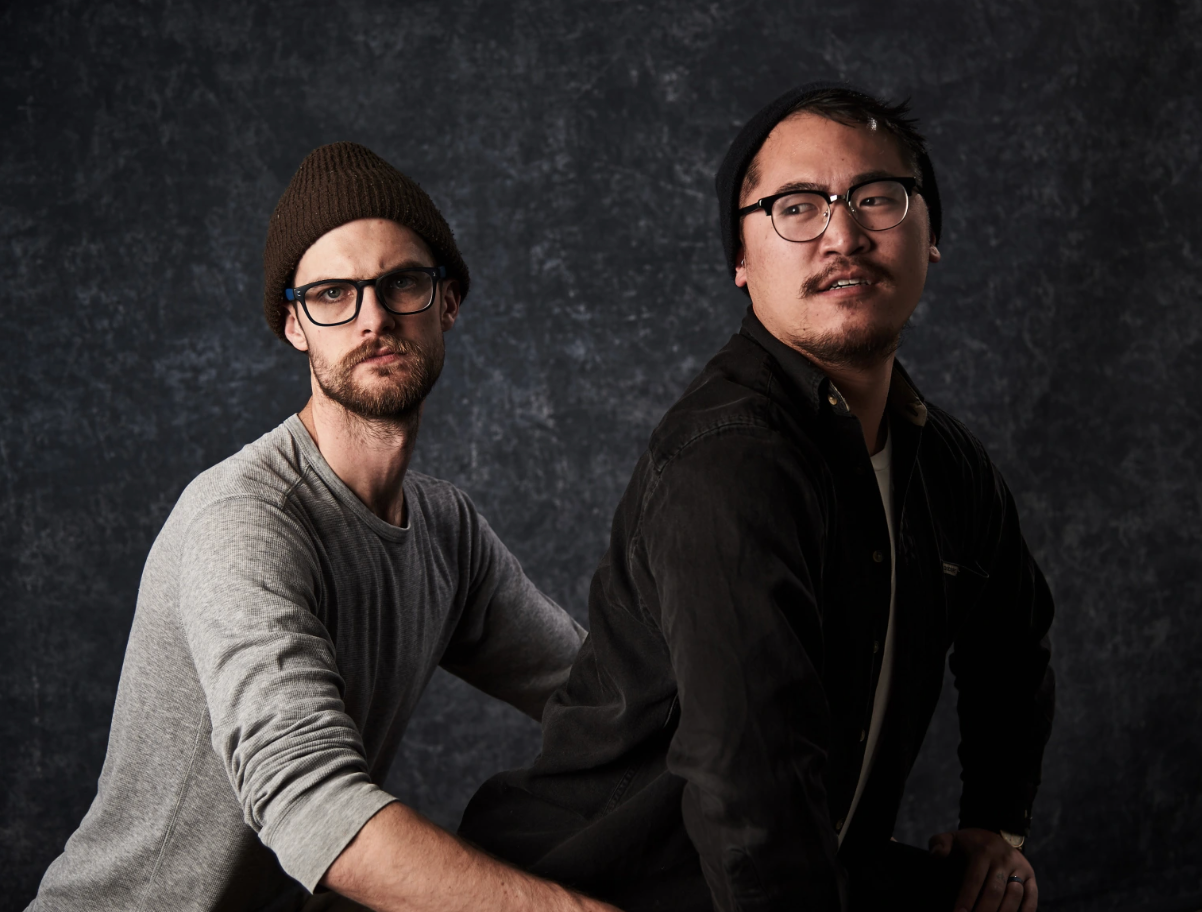 Daniel Scheinert, Daniel KwanThe Variety Shutterstock Sundance Portrait Studio, Park City, Utah, America - 23 Jan 2016
Daniel Scheinert and Daniel Kwan
Michael Buckner/Variety/Shutterstock
"To keep the lights on, you need to make movies that make money as well," Anthony said. "That's also part of our agenda. Joe and I are populists at heart. We love obscure art cinema, but also love those movies that everyone can enjoy as a single filmgoing community."
In the aftermath of "Endgame" box-office records, post-"Endgame," the Russos surprised much of the industry by embracing Netflix and Apple+. (In 2019, they told The New York Times that studios are now in cocoons that will allow them to emerge as streaming-platform butterflies on the other side.) "Look, this is obviously a very sensitive conversation for a lot of people," Joe said, talking through the impact of the pandemic on theatrical exhibition. "But I do think it has supercharged trends in the business you already were seeing, including the democratization of storytelling through video on demand."
The Russos compared traditional theatrical models to Hollywood's diversity challenges. "It's built on a corrupt model that measures success on box office," Joe said. "Not every movie is built to break the bank or be a headline. … That risk-averse aspect of theatrical did not promote diversity. Digital distributors are doing it in a way because people are craving more diverse stories and they want to be surprised. This new generation wants to be surprised more than any other generation."

Watch the full conversation with the Russo brothers above and a bonus discussion below with "Cherry" cinematographer Newton Thomas Sigel and "Community" and "Cherry" editor Jeff Groth about working in collaboration with The Russos.