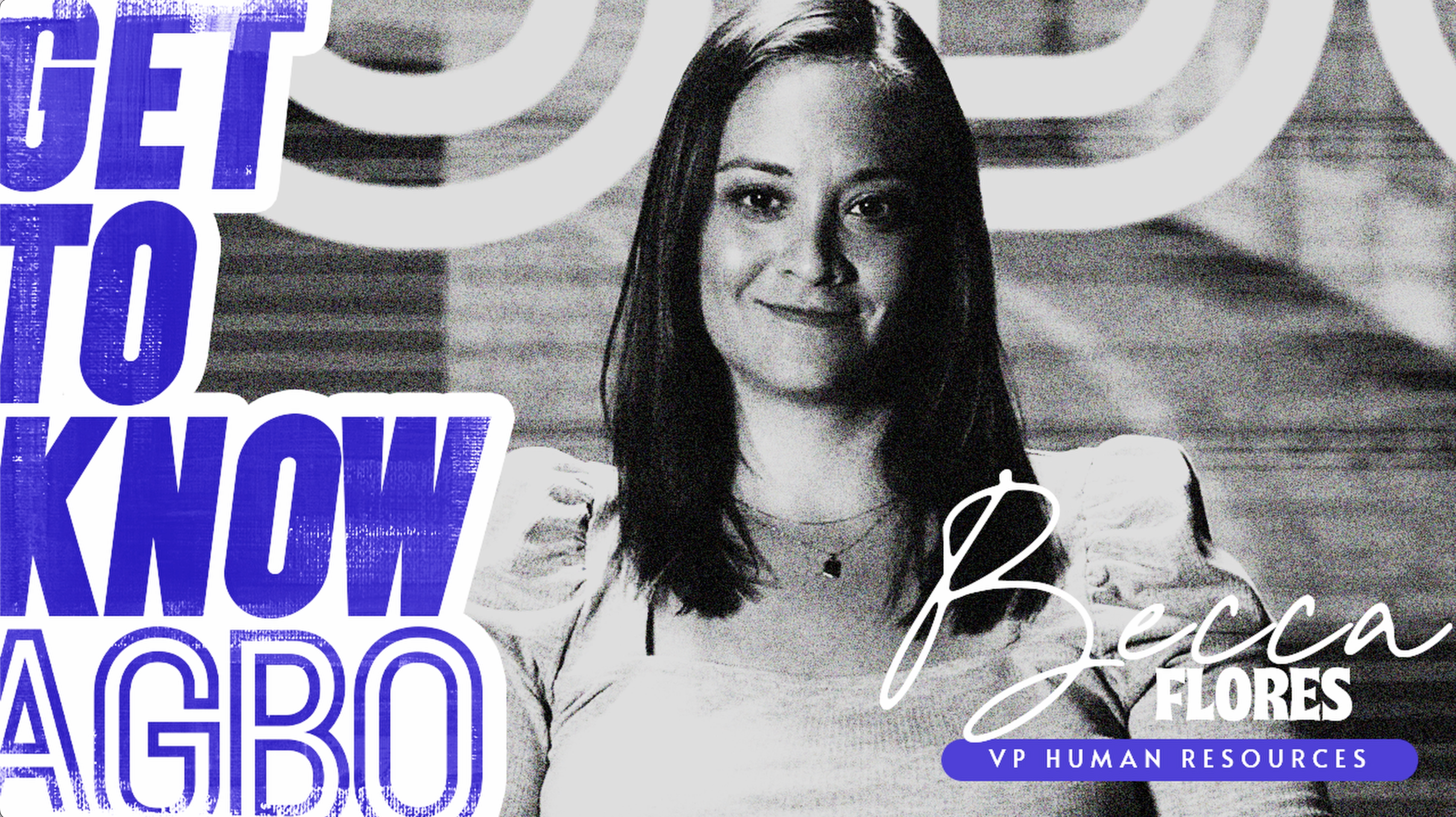 GET TO KNOW AGBO: BECCA FLORES
By AGBO Team | October 20, 2023
Becca Flores is VP of Human Resources at AGBO. She has been with the company since 2022 and oversees a broad spectrum of HR functions, including refining policies and practices, collaborating on legal affairs, and aligning recruitment with the company's values, goals, and objectives. Becca combines her experiences with DEI in the workplace, and her own Mexican-American heritage to help foster a dynamic and inclusive culture within AGBO. Before joining AGBO, Becca spent almost a decade at Buddha Jones, assisting the Senior Management team in navigating all aspects of HR. She holds a Bachelor's Degree from Arizona State University.
How did you end up working in human resources?
I fell into HR. I don't know that I ever said I would pursue it, but what I really enjoyed about it was the human aspect of it And the fact that there are people- these aren't just workers, they aren't just numbers. These are humans who are coming into work every day at the office, and I wanted to really enjoy, and appreciate who they are and how they show up. And all of that plays into our everyday work. We all know our coworkers. We all know how they show up and that is such an important thing and we cannot get loss of that, especially these days like we are in a place of, we don't clock out at 5:00 PM the way that it used to be. We are now connected to our work via our phones, via our computers, we're there all the time texting.
What qualities do you need to work in HR?
If you're an HR, you need to care about the people, that's the one biggest thing. You need to be fair, you need to be creative in solutions because you can't- No old school would be like one policy applies for all, but you need to really be thoughtful about who people are because work is not the same way that it was it's like I said, it's not the 5:00 PM we're done with work. It's done. You need to be creative. You need to be thoughtful about how you treat people. And if you can be flexible, that's one of the biggest things in HR: Be flexible, care about people, and really just see them. See them for who they are. See them for how they show up at work, and you'll get the best out of them.
Why is HR important to the creative process?
You cannot have creative without a safety net in the sense of creative comes from a place of safety. I'm safe. I'm in a good company because otherwise you're going to be stuck in a place where you're stressed, your best is not going to be out there. It's so important. I'm so lucky to be at AGBO because they care about their employees, because they care about the creative. We can take care of people so that they can be the best creatives and so by taking care of people, you take care of the creative and you allow people to really expand on that.
Why do you work at AGBO?
They care about their employees. They want to take care of people and they see every individual. We're a small company and the fact that they can see every person who works here and see them for who they are and their contributions. It's difficult, but the senior leadership is all over it. They really care about people and that's great to have at a company like this.
If you could switch jobs with anyone else at AGBO for a day, who would it be?
I'm gonna say Angela Russo-Otstot, the Chief Creative Officer. She gets an opportunity to work with everyone in the company and has such a beautiful view of the company. I would love to have that knowledge from her, so a day in her shoes would be amazing for me. I would love to hear from her, I would love to speak with people the way that she does. She's somebody who really inspires me to be a better worker. I talk about Angela all the time with other people, like, "oh my God, she's so inspiring."
What is your favorite office snack?
I'm pretty sure I ate all the airheads. And I had a blue mouth and a red mouth and a green mouth for a couple of meetings that I should not have. They're terrible for you, but they're so good and I still go to the other building because they have some left and I take them and bring them over. And I'm not even sure I enjoy them, but I eat them anyway.